Wicker is excellent for a southern-inspired, classic touch to almost any home. Not only is wicker-made furniture very stunning, but it's also easy to clean and take care of as well. But is it as simple to paint?
A good paint job on wicker furniture from professionals will probably be as costly as it will be time-consuming.
That is why the best spray paint for wicker furniture is here to solve that issue so your furnishings can have a stunning renovation easily right in the comfort of your own home.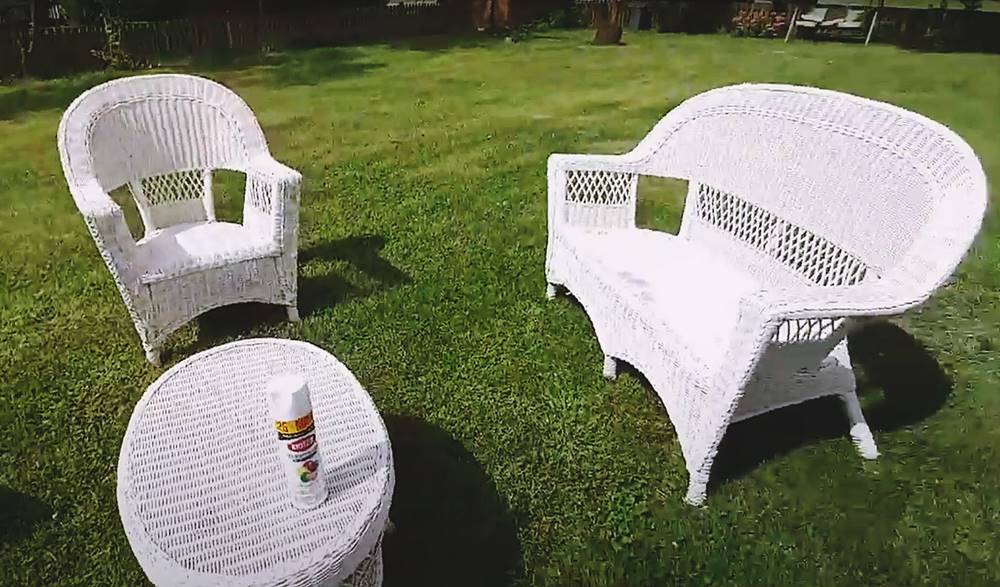 After comparing and examining the feedback of a large number of verified consumers and at-home woodworkers, we've compiled a detailed list of the five best spray paints for wicker furniture. If you're ready to be impressed, keep reading.
5 Best Spray Paint for Wicker Furniture
Whether you're looking to splurge or save, you'll find every one of these spray paints fitting right into your budget. So, prepare yourself to say goodbye to the days of seeking an expert's hand, and get ready to be your own pro with these five products.
1. Krylon COLORmaxx Spray Paint and Primer
This spray paint has all the qualities you want for spray painting wicker furniture, fast-acting, durable, brilliant color, and easy to use. Priming before painting is an exhausting task. Luckily, this multifunctional spray paint will spare you a lot of time and effort.
Not only does it provide high-quality color and radiance, but it also doubles as spray paint. So, you'll be saving a lot of energy by skipping this extra step.
Color quality is vital when it comes to spray painting furniture. Keeping this factor in mind, Krylon has made this spray paint deliver a majestic black that treats modern homes with a classic look.
Plus, its excellent color comes with a smooth, matte finish that's great for wicker furniture.
In addition, this spray paint is very simple in terms of function. Its quick-drying mechanism helps to make applications dry to the touch in just 20 minutes.
The nozzle distributes the paint evenly in high coverage films for up to an astounding 25 square feet. So, if you want your project to be done fast and without hassle, this is the go-to.
Moreover, this spray paint is highly praised for its durability. Its damage preventive formula enables it to fight corrosion, resist abrasion, and give surfaces an overall long-lasting effect from its first coat.
Pros
• Quick-drying
• Excellent color quality with a matte finish
• Doubles as a primer
• High coverage
Cons
• Paint drips
• Can appear streaky
2. Rust-Oleum American Accents Spray Paint
In a handy pack of 6, this spray paint delivers a stunning and smooth finish to a wide range of surface types, especially wicker. If you're looking for spray paint to use on multiple surfaces, the search ends with this one. This product can cover a variety of surfaces and textures with an equally impressive performance on all.
It can work with more than six different surface types, including wicker, wood, plastics, metal, ceramic, plaster, and even vinyl. Plus, it can be used for both interior and exterior surfaces.
Out of the products on our list, this spray paint has the most remarkable color delivery.
Its unique and satin espresso color can double as cool and warm tones, which makes it fit nicely into almost any room. It also provides intense color with a smooth-to-the-touch satin finish.
Not only is this spray paint long-lasting and durable, but it's also very simple to control and navigate through the features. Its nozzle is easy to use and can be sprayed at any given angle, even upside down.
That makes it effortless to reach hard-to-cover spots. As an added comfort, it has a big button and a tip to prevent hand aches.
For a seamless and professional quality painting experience, this spray paint would be the best option. Its quick-drying formula makes the paint dry smoothly to the touch in 20 minutes.
The paint itself is full coverage within 12 square feet and seals any scratches, scrapes, or chips on the surface.
Pros
• Works on multiple surface types
• Unique color
• Easy to use
• Seals and restores imperfections
Cons
• Low heat resistance
• The nozzle does not prevent globs
3. Krylon Colormaster Paint + Primer
For a high gloss finish on your wicker furniture, this spray paint is key. With its multifunctional properties and easy to spray mechanism, you'll be satisfied with its performance.
If you're aiming for a spray paint that works great on wicker furniture, this product would be the most hassle-free go-to.
Once applied on wicker, its adhesive consistency clings onto the surface almost instantly and provides it with a full and radiant shine. Plus, the finish is smooth to the touch.
Not only wicker, but this spray paint also reacts well with virtually any surface type. It ranges from wood, metal, plastic, paper, glass, ceramic, fabric, plaster to iron, making it one of the most versatile products on this list.
Plus, it's weather damage resistant to all of these surfaces.
Moreover, this spray paint works like a charm if you're in a hurry. Its fast-acting formula enables rapid drying in under 10 minutes after application.
Not only does this spray paint have extraordinary coverage, but it also is highly durable against abrasion and damage. Basically, you'll get a long time effect in a short time of effort.
Still not impressed? You can use this spray paint for both indoor and outdoor purposes.
Its highly damage-resistant mechanism allows it to repel water and chemical erosion from rain and also high temperatures to an extent. And it does all this while providing excellent color quality and a sleek finish.
Pros
• Durable
• Dries quickly
• Versatile
• Tackles weather damages
• For both indoor and outdoor applications
Cons
• Melts certain types of plastics
4. Rust-Oleum Painter's Touch 2X Ultra Cover
Another spray paint from Rust-Oleum that not only serves brilliant and vivid color but is unique and versatile in function.
In just 12 ounces of product, this spray paint delivers what most can't – unique, cool-toned, and vibrant color, a smooth to the touch satin finish, and quick and easy coverage within 12 square feet.
This spray paint is excellent for pairing with monotonous colors and bluish tones.
Not only is the color radiant, but the paint also applies evenly and in full coverage coats. The paint itself is low in odor.
So, if you're worried about the fumes from spray paints fogging up the house, and making it difficult to breathe, don't fret because this spray paint will keep the air clean for you.
Moreover, this spray paint has astounding resistance qualities.
Once the spray paint is applied on the surface, its quick-acting formula seals and hides all the cracks, scrapes, scratches, chips, and pale spots, replacing it with a beautiful satin lagoon hue and sleek texture.
Additionally, this spray paint will also protect any surface you spray it on. Whether it be wicker, wood, plastic, metal, vinyl, ceramic, or even masonry, this spray paint will wrap everything in a protective sheen and treat it with a long-lasting effect. Its drying time is only 20 minutes.
Pros
• Resistant to damage
• Little to no smell
• Protects and heals imperfections
• Long-lasting
Cons
• Develops a slight yellowish tint over time
• Nozzle tends to clog
5. Minwax Fast-Drying Aerosol Spray Paint
Last but definitely not least, this spray paint may be unassuming in its little more than 11-ounce form, but it packs a mighty performance that's bound to impress.
This spray paint is probably the most ideal for woodwork. It is because its formula adheres to wood more than any other surface, making it a perfect choice if you're refurbishing wooden household items. Plus, it works with both unfinished and finished wood.
Besides its excellent adherence to wood, this spray paint's formula is very time efficient.
Its fast-acting mechanism enables it to act right after it leaves the canister and makes contact with the surface, dries quickly, and the effects last for a long time.
Moreover, this spray paint does more than just giving surfaces a beautiful satin finish. It also protects the surface.
That is because it applies almost instantly and starts working on its resistance to abrasion. Also, every coat applied hardens into a thick yet highly adhesive layer that repels damage.
If you're still doubtful of this spray paint's qualities, you'll be happy to know that this product has many user-friendly features.
A few notable ones include: a nozzle that evenly distributes paint, the product is stirred, so no bubbles or globs ruin the texture and a large button for maximum comfort.
Pros
• Easy to use
• Protective coating
• Fast-acting
• Perfect for wooden surfaces
Cons
• Requires multiple coats
How to Choose Spray Paint for Wicker?
Now that you've made it up to here, you might already have a certain spray paint you're considering taking home. But, before you come to a conclusion, here are some factors you may want to consider for a fully satisfactory painting experience –
Surface Type
Have a clear-cut idea on which surfaces you want to use the spray paint on.
For instance, if you want to paint plastic wicker furniture, the best spray paint for plastic wicker patio furniture to look for would be one that's for outdoor use, compatible with both plastic wicker and weather resistant.
Color Quality
Good spray paint has the following qualities that ensure high color quality –vibrance, ease of application, permanence, durability, low fumes, uniform consistency, and a seamless finish.
Given that the spray paint you choose has any three or more of these features, you will have a worthwhile experience with it.
Durability and permanence are also key because they will make sure your paint job stays the same as when you first applied it. They are important if you don't want to keep refurbishing frequently and desire a more long-term effect.
Read More: Best Spray Paint for Hydro Dipping Reviews
FAQs on Spray Paint for Wicker Furniture
Can wicker furniture be waterproofed?
Yes, most spray paints already have little to no permeability to water. But, if you're still doubtful, you can opt for a coat of tung oil or a clear waterproof coat for furniture to seal everything in place. Just make sure anything you use is compatible with wicker.
How many cans of spray paint for the wicker chair?
It depends on how much product a canister of spray paint carries and the chair's size. But, given that the average spray paint can come with 12 ounces worth of product, you'll need no more than 2 or 3 cans of spray paint.
What are the best colors to paint wicker furniture?
The best colors for wicker furniture are natural, warm-toned colors like beige, honey brown, espresso brown, chestnut, and amber. You can also find that bright ivory or deep black will give a modern look to wicker furnishings.
Do you have to prime wicker before spray painting?
It's highly recommended to prime your wicker furniture before spray painting it. It is because a good primer will prep the surface and make it adhere to the paint better. Also, it will prevent the paint from bleeding through and ruining the original wicker material.
Conclusion
If you've made it till here, you've already completed about 95% of what's needed to be done before settling for the best spray paint for wicker furniture for you.
Now all that's left is the final decision, which is all in your hands. Don't let the options overwhelm you, and take your time, and consider our advice while doing so.