Metallic spray paints are widespread among both professional and enthusiast painters. And if you are one of them who are searching for the best metallic spray paint, you have come to the right page.
However, there are lots of metallic sprays floating on the market. To figure out the best one among these products isn't an easy job at all.
It requires hours of research before you find out the best product. To make things easy for you, I have done the research. It took days of deep digging to enlist the best ones on the market. The prime consideration while picking these products was what the customers said about the paints after applying them on different surfaces.
Moreover, I have also discussed some essential features you should consider before purchasing the product.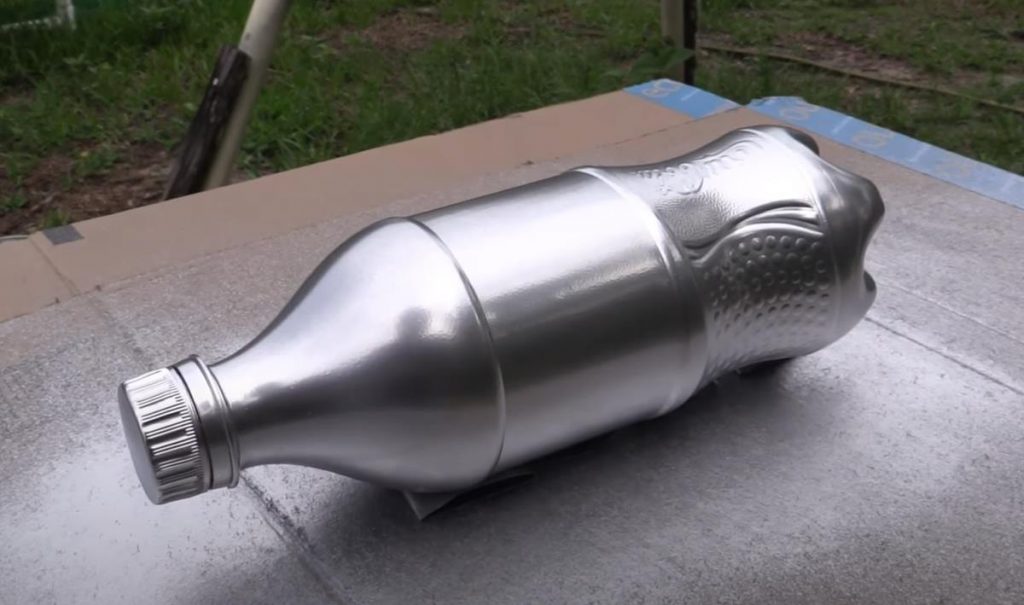 Here is a quick list of our top picks:
Rust-Oleum Universal All Surface Metallic Spray Paint
Dupli-Color Blue Metal Cast Anodized Color Paint
Krylon Candy Grape Shimmer Metallic Spray Paint
Krylon Fusion All-In-One Metallic Spray Paint
Rust-Oleum Silver Metallic Spray Paint
5 Best Metallic Paint Reviews
Whether you are an occasional painter or a pro, the list includes several paints of your type for both indoor and outdoor applications.
1. Rust-Oleum Universal All Surface Metallic Spray Paint
If you want to get versatile metallic spray paint for your paintwork, this one from Rust-Oleum is an option up for grabs.
With the ability to paint plastic, concrete, glass, aluminum, wicker, fiberglass, along with metal, this spray paint comes right at the top of our list. Whether you want to use it for exterior projects or interiors, it suits all.
Thanks to its oil-based formula with exceptional adhesion, the paint is rust protection as well as fade resistant. So, your coating would last longer with an aged copper finish.
Another notable feature of this product is its unconventional spray method. Allowing you to paint 360° angle, this spray painter is absolutely suitable for you to paint on tough to reach spaces.
Apart from that, a can of this paint comes with an exclusive two-finger hold trigger. It helps to remove finger exhaustion while providing great control for spraying the paint over applications.
Pros
• Protects from rust
• Ideal for both outdoor and indoor use
• Fade, chip, and UV resistant
• Primer included with the paint
• It comes with several finishes and colors
Cons
• Low-quality nozzle
2. Dupli-Color Blue Metal Cast Anodized Color Paint
Heat resistance is a determining feature of any spray paint, especially when you want to paint outdoor stuff. Coming second on our list, this blue metallic spray paint from Dupli-Color has the capacity to resist heat up to 500 degrees Fahrenheit. So, if you are looking for a paint solution to withstand extreme heat, this is your pick.
You can easily consider buying this spray paint if you have painting requirements for exterior projects. More so, the paint can resist oil and gas that make it a serious contender for high-heat applications as well.
While spraying paint, you may face problems with the nozzle of the can. However, with this spray paint, you wouldn't face that problem as it comes with an easy spraying touch fan nozzle.
One of the prime features that every painter looks into a spray paint is the brightness of the paint. Thanks to its anodized color effect, this spray paint can turn any ordinary piece into a shiny and bright metallic finish. So, you will not regret buying this blue metallic spray paint.
Pros
• Provides long-lasting finish
• Heat, gas, and oil resistant
• Bright blue metallic finish
• Ideal for interior and exterior applications
• It comes with an easy-to-spray touch fan nozzle
Cons
• Inappropriate for professional use
3. Krylon Candy Grape Shimmer Metallic Spray Paint
Coming with an excellent shimmering copper finish, this purple metallic spray paint from Krylon is our following product on the list.
Thanks to its fast-drying nature, the paint takes only 10 minutes to dry. So, if you want to quickly paint some applications and don't want to wait much for the results, you can count on this product.
In terms of colors, this 11.5-ounce weighted paint comes with an array of colors. So, if you want to use several colors in your project, there are other colors to pick as well.
On the other hand, the paint is suitable to use in both outdoor and indoor projects. This paint is all you need to give the applications a brand new appearance for any interior or exterior metal piece.
To be able to use the paint for outdoor projects, you have to make sure it can live up to weather elements and extreme conditions. Thankfully, the formula decently handles such conditions for a long-lasting and durable appearance.
All of these features mentioned above make this shimmer metallic paint a hard-to-beat contender on the list.
Pros
• Dries quickly
• Perfect for both exterior and interior use
• Great durability
• Good for various materials
• Excellent to use for model builders
Cons
• May require a base coat
• It comes in low quantities
4. Krylon Fusion All-In-One Metallic Spray Paint
Whether you are a professional painter or a DIY enthusiast, you must keep black color paint in your tool kit. Well, this black metallic spray paint from Krylon is just the perfect one to be your painting companion.
When it comes to painting rough and less adhesive surfaces, priming or sanding is a must thing to do before painting. However, with this one, you can paint almost any surface without priming or sanding.
Professionals make sure their spray paints are rust-resistant for the best results. No wonder this painting formula also comes with protection from rust to maintain the beauty for years on the surfaces you apply it.
Besides, the ability to protect against rust makes this spray paint ideal to be used for both interior and exterior projects. So, if you search for metallic paint suitable for indoor and outdoor projects, this one might be an option worth considering.
Pros
• Budget price point
• Possible to spray from every angle
• Fast-drying formula
• Provides great adhesion
• Guards from corrosion
Cons
• May require more than one coat for the perfect finish/color
• Color may differ from the cap's color
5. Rust-Oleum Silver Metallic Spray Paint
To wrap up the review, we have come to our final product on the list. If you are looking for the best silver metallic spray paint, this one from Rust-Oleum will be able to provide your desired metallic finish on the applications.
This spray paint is equipped with oil-based formula. It provides the surfaces with excellent protection from corrosion due to its durable defensive coating.
Apart from that, the spray paint comes with a weather-resistant coating, which protects both interior and exterior surfaces such as metal, concrete, wood, masonry, and many more from weather damage.
If you want something durable for both exterior and interior materials, you won't be disappointed buying this paint.
Besides, the unit comprises real metal flakes in the paint. It ensures a bright and glittery finish. Thus, this spray paint would be a fabulous option for you to get a shiny and glittery finish on your materials. Looking for the best silver spray paint? Follow the link to read our full reviews of the top 5 silver spray paint.
Pros
• Provides rich and even layer
• Smooth spraying
• Corrosion protection
• Abrasion, chip, and fade resistant
• Rapidly Dries out
Cons
• Inadequate coverage considering the price
How to Choose The Best Metallic Spray Paint?
For the expected results on the applications, you should buy spray paint that possesses all the necessary features. To make things easy for you, we have discussed some important features here. Keep these in mind before you purchase to make it worthwhile.
Durability
Before purchasing any paint, the very first feature you must consider is durability. There are some paints only appropriate for interior metallic surfaces. In contrast, some paints are ideal for exterior use.
The thing that distinguishes outdoor paint from indoor paint is that the outdoor one does not fade out even if it is exposed to sunlight and extremes of weather.
Besides, you would also come across spray paint suitable for both indoors and outdoors.
And if you need to paint for outdoor stuff, try to purchase the one that is corrosion resistant.
Color
After considering the durability, you must also focus on the color of the paint. Metal paints come in various colors such as silver, purple, chrome, gold spray paint, and many more.
It's up to you regarding which color finish you would want for the projects. Besides, it would be best if you decided whether you want a matte finish or a shiny finish as your color surface.
Ease of Use
Priming is a common task that you should complete before painting. However, many spray paints come with primers contained within. This feature would make your painting job much more convenient and easy.
If the paint doesn't come with primer, don't worry at all. You can easily buy an appropriate primer for the paint.
Apart from that, don't forget to check out the nozzle of the spray can. A perfect nozzle can lessen the fatigue on your finger.
FAQs – Metallic Spray Paint
What is metallic paint used for?
Metallic paint is a paint that provides you with a coppery effect look. You can use this paint on different materials such as plastic, steel, metal, wood, concrete, masonry, and many more to give them a metal look.
Does metallic paint hide imperfections?
The ability of metallic paint to hide imperfections depends upon some factors. To hide imperfections perfectly, you need to do the priming and sanding before painting.
Besides, you need to give a base or light coating2-4 times, and then give a clear coating 2-3 times to hide the imperfections.
Can I use metallic spray paint on wood?
Yes, it is possible to use metallic spray paint on wood under some conditions. Basically, you need to condition the wood surface for proper adhesion. You can achieve this by giving an acrylic fluid primer coat.
How long does it take for metallic spray paint to dry?
The drying of metallic spray paints depends on the paint type. Generally, under ideal conditions, a single coat may dry out within 10-15 if it's water-based paint. And if you give several coats, it can take up to 24 hours to dry fully. Oil-based ones take more time to dry completely.
What metal is used in metallic paint?
Metallic paint is produced mainly by using aluminum flakes. When light reflects on the flakes, they provide a glossy or sparkly appearance.
Final Words
I hope you have figured out the best metallic spray paint that serves your needs after reading the article. For a successful painting, don't forget to follow the manufacturer's instructions.