Marble prints have taken the world by storm, and for all the right reasons – it looks good on almost anything.
The simple yet intricate pattern gives a classic look to anything ranging from car hubcaps, car exteriors, and motorcycles to even shoes. But is the hefty cost of this unique design worth it in the long run?
If you are on the crafty side of life, this is no problem a bit of DIY-ing can't fix. Especially now, with the best spray for hydro dipping, water marbling is no longer a paint job you'll need a professional for. You can do it yourself from the comfort of your home.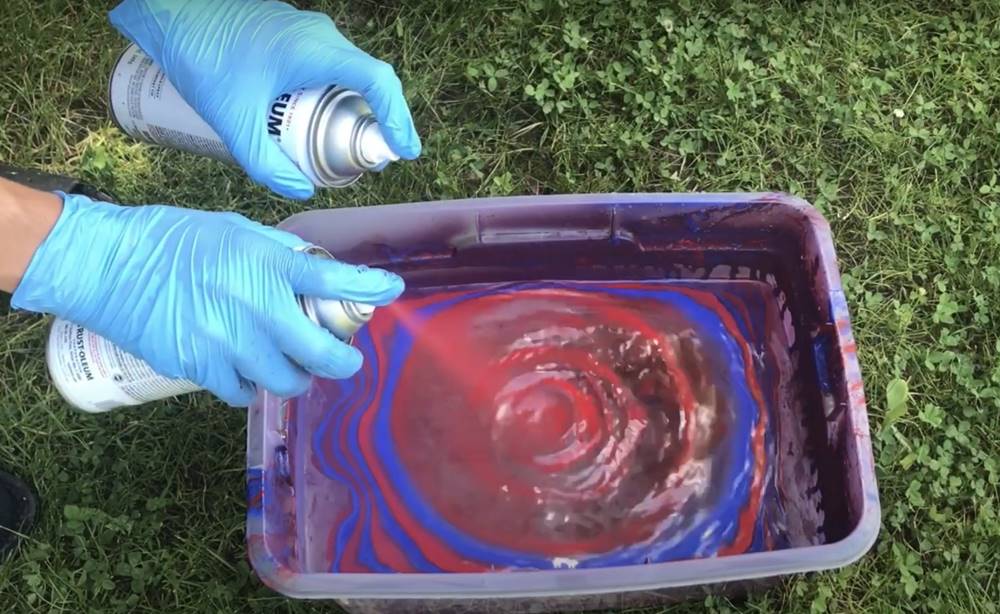 After a week of researching, comparing customer feedback, and taking the input of at-home car renovators, we've compiled a list of 4 spray paints that are great for immersion printing.
Here is A Quick List of The Best Spray Paint for Hydro Dipping:
Southern Hydrographics All Surface Primer
Rust-Oleum Stops Rust Spray Paint for Hydro Dipping
Dip Bite APX Phantom Aerosol Spray Paint
Rust-Oleum American Accents Spray Paint
4 Best Spray Paint for Hydro Dipping
The following spray paints are not only amazing for hydro-dripping, but they fit into every budget. So, by the end of this article, you'll probably have a product stuck in your mind.
1. Southern Hydrographics All Surface Primer
Whether you're going for hydro dip film, hydrographic film, water transfer printing, or any type of hydro dipping, this primer will cover it all.
Every art has a beginning, and for a seamless start, this primer is a must. It provides high coverage with just 16 ounces of product, preventing any color layered on top from being streaky or sheer.
Water transfer printing can get messy. The design may not sit properly, the water may make the paint too runny, or worst-case scenario, the print itself might peel off.
However, this primer prevents any of these from happening by clinging to any surface it is sprayed on. It is made possible due to its highly adhesive formula. It also holds color and prevents the paint from appearing too filmy.
This primer has no limits for creativity. Its easy-to-use mechanism ensures a satisfying painting experience.
It also has a quick-drying formula, so there's a minimum time between prep and painting. Plus, it's sandable. So, the primer has no chances of scrubbing off if you decide to matt it.
The best part about this primer is that it's protective and mistake-free. This primer will seal the original color of the surface and prevent paint from bleeding through and ruining the material.
It especially comes in handy if you're hydro dipping for the first time and don't want permanent mishaps.
Pros
• Prevents paint from bleeding through original material
• Dries quickly
• Can be sanded
• Great adhesive properties
Cons
• Difficulty using nozzle
2. Rust-Oleum Stops Rust Spray Paint for Hydro Dipping
For a vibrant and fierce appearance, this spray paint is the way to go. Its brilliant radiance is sure to turn heads.
From this list, this is the most protective spray paint for water transfer printing among all.
Its highly damage-resistant formula prevents surfaces from weather damage and corrosion. Moreover, this spray paint does not fade, crack, chip or peel, making it very durable.
In just 12 ounces of product, this spray paint delivers excellent shine, vibrant color, and sleek texture.
If you're looking for a pop of color, this spray paint is definitely the go-to option, as its eye-catching color quality will not only give a bold appearance but also last for a long time.
In addition, this spray paint is remarkable for its user-friendly design. It comes with a comfort tip that prevents hand aches during long hours of creativity.
The nozzle sprays the paint that covers up to 15 square feet. After application, this spray paint dries to the touch in about 4 hours.
If you're looking for a high-gloss finish, this spray paint is the best. Its oil-enamel-based formula allows it to provide a glass-like shine that both protects the surface and gives it a smooth-to-the-touch feel.
Pros
• Bright color
• Glossy smooth finish
• Durable
• Easy to use
Cons
• It takes too long to cure fully
3. Dip Bite APX Phantom Aerosol Spray Paint
For a classic, expert-like finish and stunning gloss, this spray paint will do wonders for all your hydro dipping needs. If you're looking for a spray paint that will perform on multiple different surface types, the search ends here.
This spray paint is a versatile one, providing a stunning finish on more than six surface variations, including metal, wood, most plastics, bone, and even fiberglass. One of the main reasons people skip DIY-ing at home and cave into going to professionals instead is to save time and effort.
Luckily with this spray paint, you receive expert quality results at the comfort of your own home. This is because its rapid drying formula spares your time and provides excellent coverage simultaneously.
For added protection, this spray paint delivers exceptional resistance to damage.
Even though the paint itself is solvent-based, it still resists corrosion really well. Plus, this spray paint will prevent freezing over and cracking if you live in a low-temperature climate.
The most remarkable feature of this spray paint is its all-in-one formula. This spray paint triples as an adhesive promoter, primer, and even a base coat, which is great if you are looking for a one-way finish without the hassle or cost of using several different products for a paint job.
Pros
• Works on multiple surface types
• Good coverage, rapid drying
• All in one formula
• Corrosion-resistant
Cons
• Unpleasant smell
4. Rust-Oleum American Accents Spray Paint
Last but definitely not least, this spray is an all-around stunner when it comes to immersion printing. With one good shake, it's ready to impress.
With just 12 ounces of product, this spray paint can exceed expectations significantly. Not only is this product is highly durable against abrasion and other types of damage, but it also provides a bright and vibrant color with a classic sleek glossy finish.
If you're aiming for a big project that requires hours of extensive effort, this spray paint will accompany you through your creative journey and spare you a lot of time and exhaustion.
It's easy to function mechanism enables users to have optimum experience as it can spray from any angle, even upside down. Plus, it comes with Rust-Oleum's signature comfort tip to prevent hand aches.
Additionally, this spray paint is great if you're in a time crunch. Its fast-drying formula allows it to dry to the touch within 20 minutes. Moreover, it can distribute the paint evenly along the surface within 12 square feet of coverage.
Are you still not convinced by this spray paint's versatility? Whether it be metal, plastic, wood, vinyl, most fabrics, and even wicker, this spray paint can adhere to almost any surface it's applied on.
This makes it the best spray paint for hydro dipping shoes, tabletops, outdoor furniture, car interiors and exteriors, and more.
Pros
• Versatile
• Easy to use
• Good coverage
• Great color quality
• Bright glossy finish
Cons
• Poor heat resistance
• May drip with added coats
Spray Paint for Hydro Dipping – Buying Guide
Now that you've gone through our list of recommendations for the best spray paint for water transfer printing, this is where the rest is in your control. Deciding on which product will best suit you and your creative needs can be tricky. So, we've gathered these points to help you through your search.
Color Quality
If the spray paint you chose fades color, peels scratch off, drips, or is just simply tacky looking, then it has poor color quality.
A way to prevent this from happening is to look for a spray paint that has a good consistency, meaning that it's not too runny nor too thick and applies to the surface evenly without globs or droopiness.
Durability
What's the point of investing so much time and effort if the paint just wears off within days? This is why it's important for spray paint to have resistance against damage.
Look for spray paints that prevent corrosion, weather damage, chemical damage, and abrasion. That way, your paint job won't go in vain and will last a long time.
Performance
Good spray paint will spare your time; a poor one will double it, which all comes down to how they operate.
For a well-functioning spray paint for water transfer printing, you will find that they have great coverage, exceptionally fast-drying formula, ease of application, and additional maximum comfort features like a tip for anti-finger fatigue and a large button.
If any of these features are included in the spray paint you choose, you've scored a good product.
Long Term Sustenance
A paint job, especially immersion printing, is not a one-time thing. It's meant to be permanent and sometimes even protective or a way to bring life to a dull surface.
So, what happens when spray paint does only a temporary task? It's a sign that the spray paint is bad quality.
If a spray paint peels, chips, and easily gives into weather and chemical damage and gets rusty, then it is not meant to be used for the long run. Instead, opt for a spray paint that not only is durable but keeps the same appearance as when you first applied it. You might read our latest article on the Best Spray Paint for Cars Reviews.
FAQs on Hydro Dipping Spray Paint
Is hydro dipping permanent?
This varies between what spray paints you use. A long-lasting hydro dipping spray paint will apply evenly and dry quickly. It will not peel, crack, fade, chip, or corrode. If you're doubtful that your spray paint is not permanent, apply a clear coat spray paint to seal it in place.
What should be the water temp for hydro dipping with spray paint?
To safely apply the spray paint film to the surface smoothly, make sure the water temperature is at least between 75 to 90 degrees Fahrenheit. This will make sure the paint stays adherent while immersed in water and clings onto the surface permanently.
What kind of tape do you use for hydro dipping shoes?
Any tape that doesn't allow the paint to bleed through it and clings onto the fabric of your shoes is good for hydro dipping. For the safest option, use a hydro masking tape, a specific tape used for this purpose.
Do you need a primer to hydro dip shoes?
It's best if you prime your shoes before you hydro drip them. Priming will maximize the chances of the paint adhering to your shoes, and therefore a higher likelihood of a seamless finish.
Conclusion
This list of products was curated by comparing the input of casual DIY-ers and consumers to bring you the best spray paint for hydro dipping out there.
If you made it up to here, all that is left is to make a choice. Just remember our suggestions for selecting the right product suited for you, and you'll be able to make the decision without wasting much time.