Spray paints make the painting a lot easier for DIYers. With little knowledge about it, you can do it in the right way without paying for it. If things that you want to paint on require a golden color effect, make sure you have the best gold spray paint in your hand to work with.
For those who are new in painting and stuff, it can be a bit overwhelming task to find the right one among countless options. To make things easier, I have already done 3-day long research and gathered the most reliable paints that you can use.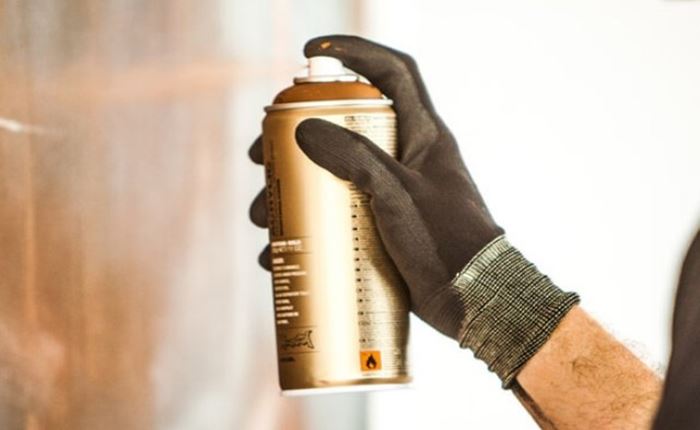 While looking for the right spray paint, I considered what the customers say about the paints after applying them on different surfaces. Apart from the advantages, I have also mentioned the disadvantages that you might face with these paints.
Quick List of Our Top 7 Picks:
Rust-Oleum Metallic Gold Spray Paint
Design Master Rose Gold Spray Paint
Rust-Oleum Pure Gold All Surface Spray Paint
Krylon Rust Protector Gold Spray Paint
Design Master Antique Gold Spray Paint
Krylon 18K Gold Metallic Spray Paint
Rust-Oleum Warm Gold Spray Paint
7 Best Gold Spray Paint Reviews
Whether you are looking for spray paint for indoor or outdoor using purposes, from the list, you will find the right one to meet your painting requirements.
1. Rust-Oleum Metallic Gold Spray Paint
Our first pick is from Rust-oleum – a top-notch spray paint to use both indoors and outdoors on any surface material.
Whether you have a wooden, metallic, or plastic surface to paint, you can apply it with great convenience. The paint has got some metallic flakes, providing a glossier look than other spray paints on the market.
Furniture can get corroded after being used for a longer period. But this paint is corrosion-resistant, which means it gives protection to your object against all kinds of oxidation.
If you are looking for a formula to restore the beauty of an age-old object, this can be the best antique gold spray paint to use for the purpose.
Being an oil-based paint, it is more adhesive to several materials, including masonry, wood, concrete, metal, and more. Moreover, it's rust-resistant, showing excellent resilience against rust in unwanted weather.
Having said that, it will prevent your furniture from fading, chipping, and whatnot. This results in a long-lasting finish on interior and exterior objects.
Using the 11-ounce bottle can give you up to 15 sq. ft. coverage with 30 minutes of drying time. So, it also checks for being an efficient paint for indoor and outdoor objects.
Pros
• Rust preventive
• Metallic flakes add a shinier look
• Interior and exterior usage
• Protects from weather elements
• Less drying time
Cons
• Might drip a bit after some time
2. Design Master Rose Gold Spray Paint
If you don't want to take the hassle of applying primer before painting, then this one from Design Master can be the right pick.
People who are more into crafts can make full use of it, as it is a perfect paint for metallic objects. It gives an adorable metallic rose gold color, looking absolutely pleasing on floral decorations, pottery, or as such.
For surfaces that suit rose gold paint, it's the best rose gold spray paint to meet such painting requirements.
The paint is not so shimmery or sparkly, rather a hint of a nice reflective touch, which crafty guys often look for! No matter what surface you paint using it, surely the visitors will be much impressed seeing the metallic finish from the paint.
Also, the paint dries very quickly, and it ensures efficiency while painting. It covers a greater surface area than other paints, which is almost 16 square feet. This covering can be done with a single coat, and the first coating takes only 5 minutes to fully dry.
For indoor objects, this paint is a go-to option. But for outdoors, the paint won't be a durable one as it doesn't have rust resistance properties.
Pros
• Fast-drying formula
• Great coverage
• Beautiful metallic finish
• Can be used on a wide variety of surfaces
• Doesn't require a primer
Cons
• Not suitable for outdoor usage
3. Rust-Oleum Pure Gold All Surface Spray Paint
Here we got another product from Rust-Oleum. The features and benefits of this spray paint are hard to find considering the price you have to pay for it.
This high-quality gold paint is basically an oil-based color, which comes up with excellent adhesion on various surface materials like metal, plastic, ceramic, wood, etc.
It has a patented ergonomic trigger design that allows circulating its spray nozzle at a 360-degree angle. With this angle, it is easy to paint in hard-to-reach areas of any object.
Moreover, this angle eliminates finger fatigue, which is caused because of holding the nozzle for a long time. So, if you are to paint any large project, the sprayer will provide the convenience you need.
The spray paint is chip, fade, and corrosion-resistant. You can expect a long-lasting painting result on a wide variety of surfaces.
Applying this spray is quite easier. You can cover up to 15 square feet area at least. It normally takes near about 30 minutes for drying. Try to use a primer prior to painting to add a lustrous look. As it is very thick in nature, one coating will be enough to pull off the task.
Pros
• Works on all surfaces
• Ergonomically designed sprayer can
• Rust-resistant
• UV protection
• Thick in nature
Cons
• Strong paint smell
4. Krylon Rust Protector Gold Spray Paint
If you are to paint a surface that is prone to rust and corrosion but still want to give the best shot, this can be the best metallic gold spray paint for the purpose.
A number of DIYers who previously used average rust-resistant paints and didn't get the expected results tried this paint. The results were quite impressive.
Krylon rust protector spray dries quickly, providing a smooth yet durable rust-fighting finish. In fact, the spray dries in just a touch under 8 minutes or lesser than that. So, you won't have to wait for hours to finish the job.
Apart from its anti-rust properties, the paint also assures you of a shimmering finish. This amazingly strong finish is the ultimate winner against all sorts of dust and debris.
Talking about its adhesive ability, when it comes to painting metal objects, it won't let you down for sure. Also, on wood, masonry, concrete, wicker, glass, and ceramic, the paint still is good enough compared to its competitors.
Pros
• Dries quickly
• Great quality finish on surfaces
• Rust resistant
• Doesn't get corroded
Cons
• Stiff nozzle might not provide an even spray
5. Design Master Antique Gold Spray Paint
Well, Design Master has made to the list by bringing more likely a budget-friendly sprayer with all the features which are necessary.
The crucial fact for choosing Design Master Antique Gold Spray over other sprayers is its magnificent finish. It offers a satin finish, which adds a posh look to your projects without any doubt.
Considered one of the most versatile sprays, the company has put a lot of effort into its appearance. You can use this on delicate items like a plastic vase, tea, pots, and whatnot!
The sprayer can cover a large area. Being a semi-transparent pigmented color, it dries pretty quickly. It is scratch-resistant and would take many tries to rub off the color. So, you can expect the paint to last many years without any issues.
Design Master Gold Spray can be applied to any surfaces like metals, glassware, paper wrap, and terracotta. Though it looks tremendously good on glassware, the color upon metallic is also firm and tidy.
Pros
• Special effect pigments
• Scratch-resistant
• Satin finish
• Quick dry
• Large coverage
Cons
• Can't protect against rusts
6. Krylon 18K Gold Metallic Spray Paint
In the paint industry, Krylon is one of the few companies that make substantial spray paints in terms of affordability and quality. This model is one of them, widely chosen allover the globe.
This paint adheres to every metal surface, acting as a rust protector for any project. Indoor projects will face no corrosion, according to Krylon authorities. But for outdoor projects, it is a bit risky to use since it can't resist higher humidity and severe rain.
You can paint this color on various surfaces, but metal outstands them all. In addition, for mirror frames and other crafting projects, you will find great results using this paint.
If you are to apply one coat, you can cover a large project. It takes only 10 minutes to dry, and you will not have to lose your precious time waiting to dry the surface.
It is a great paint to use if you are thinking of enhancing the outer look of your project. This will certainly bring a shiny matte finish and much glossier aesthetics.
As we have stated before, it is rust-resistant for interior projects, but if you are looking to use it on exterior materials, it will not be a wise idea.
Pros
• Rust-resistant
• Wide coverage
• Fast drying formula
• Matte finish
• Affordable
Cons
• Higher humidity may change the color a bit
7. Rust-Oleum Warm Gold Spray Paint
Our final suggested paint on the list is from Rust-Oleum. If you are looking for reliable and weather-resistant paint to apply on outdoor objects, this will be the best metallic gold spray paint for the money.
The Rust-Oleum metallic spray paint is very effective at preventing rusts on a larger scale. It is an oil-based pigment, which adheres to every metal piece. Once the coating is dried, it creates a protective layer on the surface that protects it from rust and other outdoor elements.
Being a versatile spray paint, you can also use it on ceramic, wood, plastic, and many surfaces and get a durable painting layer. Metallic flakes provide a gleaming and smooth finish at the end, no matter what surface you will be applying this to.
Its corrosion preventive feature incorporates so well whether it is hot, cold, or rainy. In addition to this, it can withstand chipping, fading, and abrasion on an indoor or outdoor project.
Unlike typical oil-based paints, it takes less time to dry. Within 20 minutes, you can cover up to 15 square feet. So, purchase this in an amount considering the size of the project.
Pros
• Glossy finish
• Rust preventive
• Corrosion-resistant
• Quick-drying paint
• Comfortable handgrip
Cons
• Might clog a bit while spraying
What to Look for Before Buying Gold Spray Paint?
Not all the paints are the same. Your purpose of painting has to match with the properties of the paint you are about to get. For example, paints for light fixtures won't be the same as the paint that is required for cabinet hardware or jewelry DIY.
If this is your first time purchasing anything like this, be sure to keep in mind the following factors before finalizing the order.
Color
To find the best gold spray, you got to know the actual color. A lot of sprays that are recognized as gold color fabricates a color that often looks more bronze than the actual golden color.
If you are a DIYer or self-proclaimed painter, test the color in a low lighting room to know the real color. Trying them out in brighter lights might cause some trouble to specify colors.
Preventive Measures
This feature is very important, which is often neglected. If you are using paint indoors, then most likely, the surface won't get exposed to too much liquid and stuff. But, if it's for outdoor usage, you must make sure that the paint has rust and corrosion preventive properties to make the coat more durable.
If you end up purchasing indoor paint for outdoor painting purposes, then the paint will chip much sooner than you can expect.
Pick the one which is less prone to getting corroded or rust, and this will save you money as well as it will assure you a long-lasting service.
Coverage
Although it doesn't have anything that much to do with the paint quality—if you are about to paint a large project and want to opt for an efficient option—you should consider coverage as well.
Also, consider how many coats and amount of paint your projects would require, and then get one that offers the most efficient paint coverage.
FAQs on Gold Spray Paint
Can you paint stainless steel gold?
In short, yes. But you have to go through some process to do so. Removing rust by using sandpaper and primer will do the initial task. Next, using a quality brush and gold spray paint will bring off the rest of the job. You can use metallic or brushed gold spray paint, depending on your preference.
How to make gold spray paint look antique?
To look antique, you have to remove some shine out of your spray paint. Use the best antique gold spray paint, which gives a satin finish instead of a bright, golden finish. Then, sand the object, and take out the shine. It will eventually look like a piece from ancient times.
In terms of sanding, use 320-400 grit sandpaper. This will not take most of the shine, rather a small portion of it.
Can you use gold spray paint on wood?
Definitely, you can use gold spray on wood. There won't be any need for sanding in most cases. Most of the gold spray paints are oil-based, and for that reason, paints adhere to woods really well. If you are using a wooden board, gold spray paint will enhance the gloss by many times than other simple wooden objects.
How to make gold spray paint shiny?
Multiple coating is the answer to this question. Another thing to add is, using a primer before painting. The primer ensures better adhesion of the color, so prime well prior to applying the paint.
Then, apply the first coat with high-quality gold spray paint. Let it dry, and repeat the process 3 times at least. Eventually, you will get a shiny gold spray-painted object.
How to make colors look like gold?
Mixing some specific colors will get you the gold color that you are looking for. At first, mix black and white to make the gray color, then mix a yellow color with this grey. This will form a golden color.
Final Words
When it comes to choosing gold spray paint, do consider the compatibility or adhesiveness of the paint with the objects you want to paint. Only then can you pick the best gold spray paint as the finish isn't the same on all materials.
For outdoor, make sure it has strong weather preventive properties. At the same time, indoor paints don't have to be that rust-resistant if the humidity level isn't that bad.