Let's face the truth: no one wants an ashy car. The nicks, scratches, and worn-out paint on cars tell stories about big adventures.
But, at the end of the day, it's just deteriorating the value of the car that you worked so hard for. So, is there a way to protect our cars without the worry of them losing their shine?
We get so caught up in the hustle and bustle of our lives that we tend to overlook the scrapes on our car frames. That is why the best spray paint for cars needs to be a part of our lives to push this fear out of our minds for good.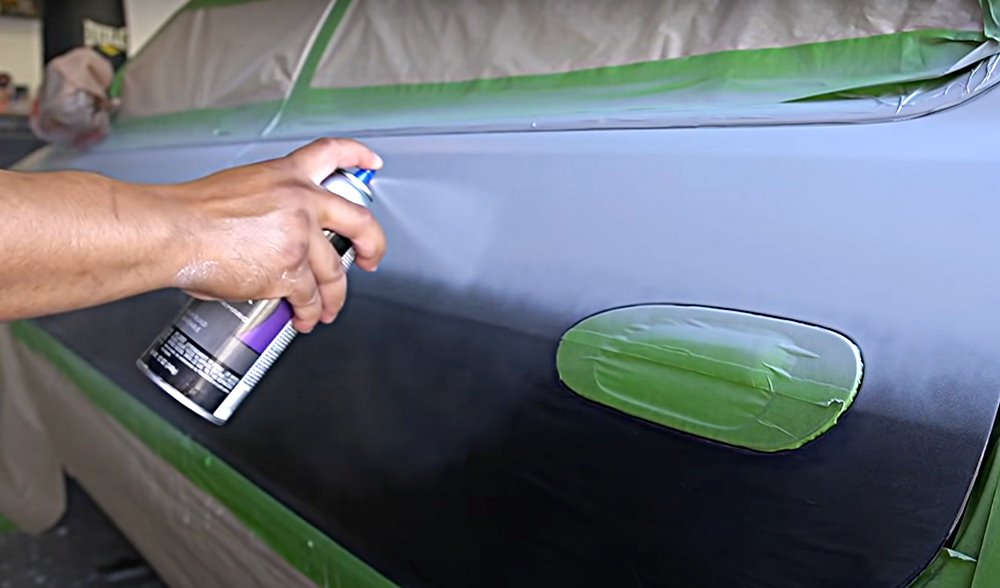 Considering the feedback of consumers and car fanatics all over the world, our spray paint expert team have curated the following list of 6 automotive spray paints after days of extensive research.
Apart from just the finish that these paints bring, the listing is made considering drying time, versatility, protective properties, and other factors.
Our Top Picks:
Best Overall: Dupli-Color Gloss Black Car Spray Paint
Best White Spray Paint: Dupli-Color White Paint for Car
Best Enamel Spray Paint: Rust-Oleum Automotive Paint
Best Clear Coat: SprayMax Clear Coat Car Spray Paint
Best for Car Interior: Rust-Oleum Enamel Spray Paint
Best Automotive Touch Up Paint: ACDelco Touch-Up Paint
6 Best Spray Paint for Cars Reviews
Regardless if you're aiming for a high or low price, you will find that any of these automotive spray paints fit right into your budget and criteria. So don't fret and rush because every one of these spray paints will do justice to your car.
1. Dupli-Color Universal Gloss Black Car Spray Paint
When you think of automotive spray paint, usually crafty things come to mind like color, shine, and appearance, not durability or protection. However, the Dupli-Color EBUN01007 delivers both these qualities, making it the best gloss black spray paint for car renovation purposes.
For a sleek and shiny look with a smooth, glossy finish, opt for this spray paint and be dazzled by its performance.
Whether it be chipped enamel on car hoods, faded paint on your car frame, or even small scratches on the rims, this spray paint will have it all covered within minutes. The versatility of this product will amaze you, as it can be applied to any metals ranging from car interior, car exterior, to even motorcycle exteriors.
Still not convinced by the range of this spray paint? You'll be stunned when you find out that this actually doubles as protective spray paint. This means that with just one good application of this product, your car will be invincible to abrasion and color fading.
There's a reason why this product is the best aerosol spray paint for cars, and that reason is its easy-to-use mechanism. This spray paint comes with a 360-degree spray nozzle that can be adjusted so you can use it any way you want, even upside down.
This nozzle allows the paint to spread widely across the surface and distribute the color evenly for a smooth, glass-like finish.
Pros
• Durable coating
• Prevents abrasion for car interior and exterior
• 360-degree nozzle
• Easy to apply
• Shiny glossy finish
Cons
• Needs to be sprayed quickly to prevent bubbles and droplets
2. Dupli-Color Universal White Automotive Paint
The Dupli-Color BUN0300 might just be the best white spray paint for car renovation and repair you will ever come across. Its scratch filler and primer combo formula bring the duality of both restoring the quality of your car and giving it the ultimate shine, which is rare.
This spray paint comes in the universal white color, which is ideal for covering up scrapes, scratches, and pale spots with a brilliant shimmer. The "perfect match" phrase in its name is no joke, as it can completely mimic the color of your car in a seamless fashion, proving that it is great touch-up spray paint.
In addition, this acrylic lacquer spray paint does more than just make your car interior and exterior look good. It also serves the most satisfying painting experience while doing it.
Dupli-Color has also added its signature 360-degree nozzle that works like a charm when distributing paint evenly onto surfaces. The spray paint also dries quickly, so the shine comes with no wait.
It's hard to notice when your car needs a touch-up. But, with one go of this revolutionary spray paint will have your car frame and rims looking brand new. The paint spreads out evenly, treating your car to a fresh coat covering all the spots and stains to give it that new car glow.
Pros
• Repairs and restores quality
• Excellent touch up
• Dries quickly
• Seamless performance
Cons
• Requires careful storage to prevent paint from clogging the nozzle
3. Rust-Oleum Enamel Spray Paint for Car
This enamel-type spray paint is the best for giving your car the extra protection it needs, all while looking vibrant with a classic black sheen.
If you're into long drives and on the adventurous side of life, this spray paint might just be the greatest thing you come across. Its ultra-protective formula and durability allow it to repel harmful UV radiation as well as resist weather damage.
This spray paint comes with an all-purpose formula, which is great if you're searching for something that will cover both the interior and exterior parts of your car or motorcycle. It delivers excellent shine and long-lasting color on metal surfaces as well, making it the best spray paint for car rims and frames.
Its most notable feature has to be its easy-to-use mechanism and user-friendly design. This glossy black spray paint evenly spreads and applies a sleek, smooth finish through a fan spray. Due to this, you can treat your car to an expert-like paint job at home without the cost of going to a professional.
If that was not enough to convince you, you'll be glad to hear that in just 12 ounces of product, you can achieve a long-lasting protection coat, fully restored color quality, evened out scratches and stains, as well as a classic glass-like black radiance.
Pros
• Durable coating
• Great looking black finish
• Protection against UV radiation and weather damage
• Best for car rims and frames
Cons
• Fan spray may spread paint unevenly
4. SprayMax High Gloss Finish Clear Coat Car Spray Paint
Expert performance, high-quality finish, and fierce refurbishment, all in just 29 ounces. If you're looking for the best clear coat spray paint for car refurbishing, this is the most satisfactory one you'll find.
In a handy pack of 6, this spray paint is very well suited for big projects that require a lot of coverage. Plus, it delivers an even, excellent radiating clear shine that restores damaged or pale areas of your car, so, if you have a large space to take care of, opt for this spray paint.
Longevity is a factor that is key when looking for good and well-functioning spray paint. Keeping this in focus, this spray paint's long-term performance is absolutely astounding. Not only does it seal every scratch and scrape to make the surface brand new, but it also preserves it for a long time.
Not all cars are 100% metal. Some have plastic car interior or exterior, which can get difficult to find satisfactory spray paint for because most of them are majorly for metals. Luckily for us, this spray paint works just fine on plastic car interiors and exteriors, given that you follow the correct instructions for application. We have reviewed the top 5 spray paint for fiberglass and plastic. You can check that out.
Moreover, this spray paint's promise is to bring your car the high gloss finish it deserves. This means by using this clear paint, your car will have an extravagant glass-like look, with added protection from weather and chemical damage.
Pros
• Long-lasting effect
• Weather and chemical damage resistance
• Works on car interior plastic
• Great coverage
Cons
• Can cause harmful chemical exposure
5. Rust-Oleum Automotive Enamel Spray Paint
In search of good vinyl spray paint for cars, it's without a doubt that this product takes the cake of this category in our list.
This enamel-based spray paint comes in an unassuming amount of 11 ounces but provides excellent coverage of up to an amazing 12 square feet. Plus, its rapid drying formula will have your car's surfaces smooth to the touch in just 10 minutes after applying.
Although it shows its best performance on floors and doors, this spray paint actually works great on many more automotive surfaces than just those. Examples include leather, most fabrics, and most importantly, vinyl.
So, if you want to stick to one spray paint to cover everything with brilliant shine and color, this would be the best option to consider.
If you're looking to touch up parts of your car that need a little renovation, this spray paint will work wonders on them. Car seats, vinyl tops, floor mats, dashboards, you name it – this automotive spray paint will diligently do its duty.
To add more to its application, this spray paint is ideal for vinyl interiors, as it restores color quality to its original form. It also protects it from damage and abrasion, preventing any chips, cracks, peeling, or rubbing off.
Pros
• Good for vinyl surfaces
• Fast-drying formula
• Works on a wide range of surface types
• Great for touch-ups
Cons
• Not very long-lasting
6. ACDelco White Touch-Up Spray Paint for Automotive
For a lacquer-based, white touch-up, this spray paint is the way to go. It will transform your car into a refurbished and well-restored stunner.
Every car deserves to be spoiled from time to time with a touch-up. But, how can we restore color quality and repair minor scratches without giving up the time and effort for a car-tech visit? This spray paint is the answer to the question, and it truly does live up to the best automotive touch-up spray paint title.
Scratches, scrapes, and nicks are now a thing of the past with this spray paint. Its extra protective formula gives your car the added shine it deserves, as well as securing it against abrasion and damage. So, if your car needs some refurbishment, this spray paint will provide brilliant touch-ups.
It may be 5 ounces of product, but it distributes paint evenly, and in a wide range– no bubbles, no globs, and no dripping. This spray paint surely knows its way through a satisfying painting experience. Plus, it's completely mess-free.
Additionally, the canister of this spray paint has a user-friendly design that's easy to use. This makes the paint spread uniformly, treating car surfaces to a sleek, glossy touch-up without making the product go runny.
Pros
• Doesn't make a mess
• Evenly distributes on surfaces
• User-friendly design
• Great for touching up automotive surfaces
Cons
• Does not match color evenly
How to choose the car spray paint?
When it comes to finding the best automotive spray paint for your car, it's typical that you would want something that gets the job done and is satisfactory all around. But, this can be difficult if your aims aren't clear-cut. Here are a few things to keep in mind while searching for the right product for you:
Color Quality
This is self-explanatory on its own. You're interested in spray paint, so how's it even worth it if the product does not live up to its sole purpose of coloring?
First, decide which color you'd like that suits your car the most. If it's clear, then there isn't much to worry about because it will just enhance the original color of your car. If you would like to go for a new look, start with close to similar shades of your car, so there isn't any room for mistakes.
If the spray paint is too runny, drips, and takes too long to dry, it's simply not good enough.
Top 7 Gold Spray Paint Reviews and Buyer's Guide
Durability
The best clear coat spray paint for car renovation has durability as one of its key features. Although color and shine are vital to a car's appearance, if those end up fading away, peeling off, or become prone to damage, then it defeats the purpose of spray paint. This is why durability is so important.
Scratches, scrapes, and fading color are inevitable when it comes to owning a car. But, a good clear coat of spray paint will seal the entire surface of the car and secure it against chemical damage, weather damage, abrasion, and more. So, keep a lookout for spray paints that provide a seamless but thick gloss finish.
Coverage
This is probably the most difficult part of finding a good spray paint, and most people usually get lost in the process. It's simple once you understand that for optimum coverage, you need a clear idea of how much product you'll need according to how much surface you would like to paint.
There are spray paints that cover a lot of surfaces with a little amount of product. This requires a good nozzle that distributes paint without drips or globs. If you find that your spray paint is dripping, clogging at the nozzle, or applying the paint in thick coats, it's a sign that the spray paint has bad coverage.
FAQs on Cars & Automotive Spray Paint
How many spray cans to paint a car?
It all depends on the volume of the product. The average car requires about 3 quarts or 96 ounces of paint, given that a typical can of spray paint has 12 ounces of product. This would mean a minimum of 8 canisters is needed to paint a car. If you want to add more coats, you will need more spray cans.
Can you use spray paint on a car?
Absolutely. However, you need to make sure the spray paint is intended for car painting use. If you see a spray paint that claims it doubles as homeware paint as well as automotive paint, it's best to avoid it and opt for a spray paint that solely focuses on car surfaces.
What's the easiest color to paint a car?
Ivory, cream, pearl, and true are some variations of white that are by far the easiest colors to paint on a car. But, if you're still nervous about the outcome, go for a clear coat that enhances the original color of your car for a safer option.
What type of paint is used on cars?
The most common type of paint used on cars is acrylic polyurethane enamel. It's a protective type of paint that is usually paired with a base coat and a transparent clear coat for shine.
How long does spray paint last on a car?
Again, this solely depends on the product. Some spray paints aren't resistant to chemical damage, weather damage, peeling, fading, abrasion, etc., which affect the longevity of the product on the car. So, if spray paint provides protection against all of these, it will last for at least a few years.
Conclusion
Don't be nervous about taking your time looking for what suits your car best, and just remember our advice while you search to make things easier. Hopefully, by now, you already have an outline to get the best spray paint for cars.