Who wouldn't like to kick back outdoors with the whole family?
Picnics in the backyard when it's sunny out, dine on some good food on the patio after a long day of rain, and go on long drives when it's windy – everyone's definition of a day well spent. Right?
Sadly, these good days come with a cost, whether it be rusty window sills, chipped paint on home appliances, or matted furniture. But using the best oil-rubbed bronze spray paint can make a way out for such issues.
If you are not that much interested in further lengthening your research, we already have looked through some of the best paints you can get for this purpose.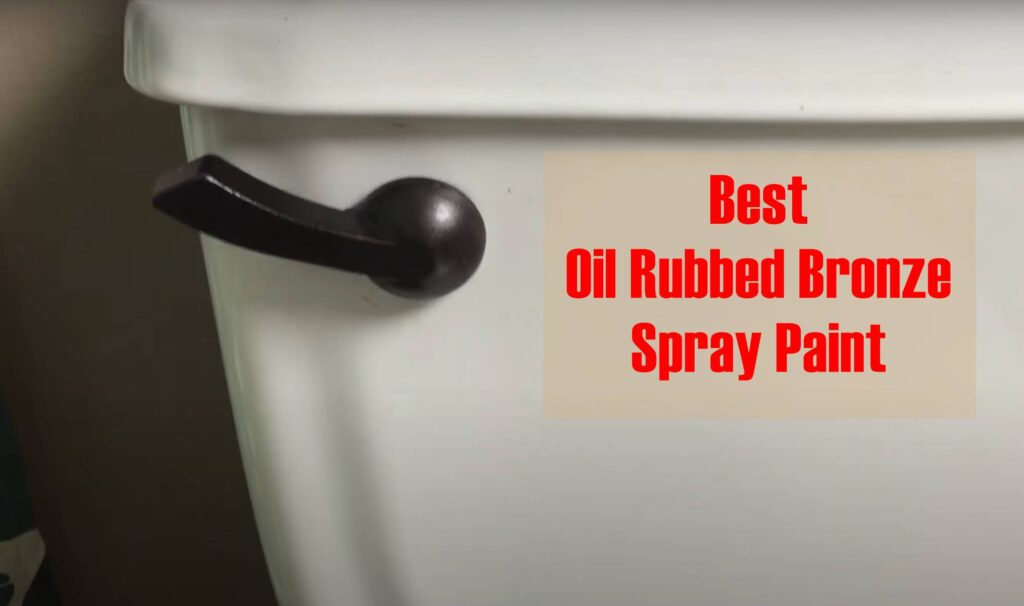 The feedback from real customers made it a lot easier for us to finalize the list. We can assure you of getting a more convenient and durable painting experience using these products.
Regardless of your budget and painting requirements, from the following list, you will surely be able to pick the one to meet your painting needs without compromising anything important.
Let's have a look at our top picks:
1. Rust-Oleum Oil Rubbed Bronze Spray Paint
Miniature and mighty, this spray paint gives your furniture a rustic effect with an antique glow. All with its signature oil-rubbed bronze finish, it's a worthwhile considering option if you are about to paint on antique objects.
This 11 ounce Rust-Oleum may not look as intimidating at first sight, but it's an absolute showstopper when it's in action. It's compact, lightweight, and powerful – all the qualities for the perfect toolbox favorite. So what are its most noteworthy features?
Packed in only 11 ounces, this spray paint provides the most vibrant and long-lasting color for spray paint. The sleek and smooth oil-rubbed bronze finish is safe to touch after only 20 minutes of drying and can cover up to 15 square feet, so don't let its small form fool you. For a finishing touch, this spray paint contains real metallic flakes, which does wonder for a glossy look.
"Stops Rust" maybe its a promise, but it does way more than that. Whether you're working with wood, concrete, masonry, marble, or metal, this spray paint will not cease to impress you with its range in function. It works on both indoor and outdoor surfaces, so no damage goes unfixed.
With any spray paint comes the inevitable concern for chipping and fading.
Luckily for us, this spray paint is resistant to both. The paint tackles abrasion and corrosion expertly. It's oil-based, which means its main purpose is durability and endurance. Moreover, it does all this in style.
Pros
• Does not fade, chip or peel
• User-friendly design
• Resistant to abrasion, corrosion, and weather damage
• Sprays at any angle can be sprayed upside-down as well
• Dries in 20 minutes, elegant oil rubbed bronze finish
• Works on multiple surfaces
Cons
• Can appear dark in some lightings, requires careful layering
• May leave a "coppery" smell temporarily after use
2. Krylon Colormaxx Oil Rubbed Bronze Spray Paint
For a flawless shimmer and shine, radiant eye-catching color, and easy-to-use spray mechanism to help you along the way, Krylon Colormaxx would be your best catch.
Not everyone with a toolshed can tell the difference between a good can of spray paint and a flimsy one. That's completely okay – because Krylon Colormaxx is here to end that dilemma. This spray paint is packed with 12 ounces of nothing but excellent sparkle and brilliant oil-rubbed bronze finish paint.
You might be thinking, why should I trust this unassuming can of paint? Well, the Krylon Colormaxx is not your average local store buy, it has a long history of satisfied customers, starting all the way back to the late 1940s. Its spray paint and primer duality with an immaculate glossy color has since won over the hearts of DIY lovers.
This spray paint is the perfect choice if you're looking for a classic and glamorous oil rubbed bronze glow on almost any surface around or outside your house, including ceramic, glass, wood, metal, most plastics, and so much more.
Additionally, this spray paint covers up to a whopping 25 square feet, very convenient for big projects.
Pros
• Prevents wear and tear
• Primer and paint combo
• Dries in 20 minutes
• Covers upto 25 sq. ft.
• Fights rust and restores damaged surfaces
Cons
• Full cure time takes 48 hours
• Nozzle can spray more paint than expected if the button pushed too abruptly
Oil Rubbed Bronze Spray Paint – Buying Guide
Now that you have looked at all your options, here is the kind of difficult part – making the final decision. Don't worry, it's not an overwhelming choice to make as there are clear-cut things you need to look for in a good can of spray paint.
For reliable bronze spray paint for metal or any other surfaces, you need to consider the following points.
Color Quality
The sole purpose of spray paint is to bring a pop of color, so why would you settle for less when you can have the best? The best kind of spray paint has amazing color quality, but how can we tell the quality is good or mediocre?
It's simple. If the color is exactly to your liking, you have successfully passed step one. You might read about the best metallic spray paint reviews.
Coverage
Then, you need to make sure the color has good coverage. This means that according to your project, the spray paint needs to have the right volume of paint, and it has to spray a fairly large portion of where you aim the nozzle.
Finish and Drying Time
The paint has to dry quickly enough to add another layer or move onto another spot, it must also leave a smooth finish.
Durability
The whole reason why you bought the spray can in the first place was to repair, restore or renovate, so what's the point if none of the three happens? This is why durability is important. Good spray paint will be adhesive as well as resistant to abrasion and peeling.
How can you make sure the spray paint is durable without using it first? Bad quality spray paints have a tacky acrylic paint stench that you can smell right after opening the cap of the can. These spray paints are also very runny and are slightly watery when you first spray them.
So, steer clear if you come across one of these spray paints!
FAQs on Oil Rubbed Bronze Spray Paint
What is oil rubbed bronze?
Oil rubbed bronze is a surface type, usually achieved after several chemical processes to stimulate a modern-looking and beautiful dark mahogany or chocolate color.
What colors look good with oil-rubbed bronze?
Since oil-rubbed bronze is a classic shade of its own, it can virtually go with any color of your choice. Oil rubbed bronze can range from dark brown, deep gray to almost black, making it looks good with any color you pair it with. My recommendation – bright reds, deep emerald greens, pale blues, monotonous colors like black, gray, and white go great with oil-rubbed bronze.
What is the difference between bronze and oil-rubbed bronze?
The main difference between bronze and oil-rubbed bronze is the outcome. While both are similarly dark and intense, oil-rubbed bronze has coppery undertones that resemble flickers of gold and gives a signature shiny finish. Bronze, on the other hand, is matte and does not provide the flare oil rubbed bronze does and can look monotonous at times.
Can I use oil-rubbed bronze spray paint on wood?
Absolutely! Wood is a very common surface type, and oil-rubbed bronze spray paint is the perfect way to give it an intense rustic look.
Conclusion
When it comes to looking for the best oil rubbed bronze spray paint, only a few, clear points come for consideration – which I have mentioned, explained, and briefed all for your researching pleasure.
Remember to not be nervous while testing the spray paint you want. The three I have listed and walked you through above are by far the most satisfying spray paints to use. So, take your time to figure out which one suits your DIY needs best.
If it's the first time, just Google or YouTube how to paint an oil-rubbed bronze finish. You will get the full step-by-step processes. Good luck with your future project!