Spray paint is great for channeling your inner artist, but it can cause a very tricky mess to clean up later. No matter how hard or how long you scrub, that pale spot of paint that you couldn't get off will taunt you every time you walk by it.
After a long day of work, why should you have to deal with the hassle of scrubbing graffiti off your fence? Why waste valuable hours of your day doing the work when the best spray paint remover can do it for you in a matter of minutes?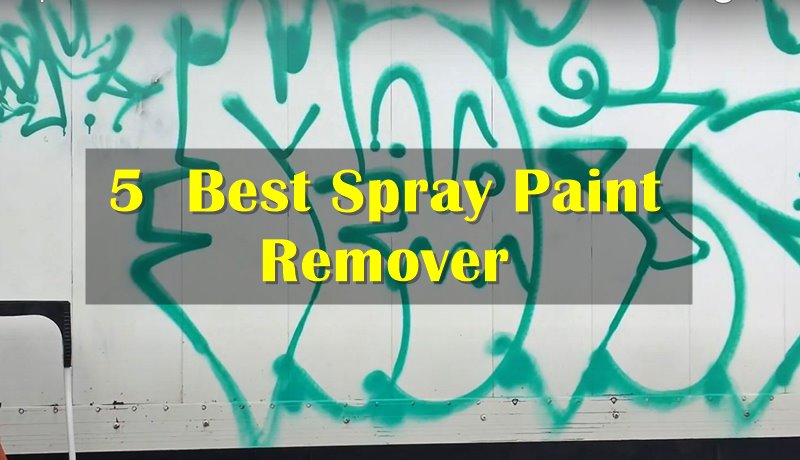 You don't even have to lift a finger to scavenge the internet for a suitable spray paint remover. We've already compiled a detailed list of the best products considering the feedbacks of verified consumer reviews, which took around 3-4 days of research.
5 Best Spray Paint Remover Reviews
Even if you decide to wing it and try any of these spray paint removers, you will be satisfied with the results. We've made sure all these products fit into every budget and suit all your requirements for a spotless outcome.
1. Goo Gone Automotive Spray Gel
As the name suggests, it's known to clean auto interiors, auto bodies, and rims, remove bugs, stickers, paint, and more, making it a versatile product.
When you look for a spray paint remover, you're not necessarily looking for one-time use and expecting to put it away right after. It is an investment, and therefore it should be able to clean up any spray paint mess on any surface. That's what the Goo Gone Automotive was made for.
This remover reacts with spray paint on almost any given surface it's used on, especially car exteriors, car interiors, plastics, windows, mirrors, glass, and most metals. Moreover, it does this without making the surface look pale or scruffy. So, you can definitely make regular use of it.
Although this remover is primarily for spray paint removal, it will surprise you when you find all the other messes it can clean up as well. This multifunctional remover can get rid of gloopy residue from stickers, bird defecate (droppings), gum, sticky tree sap, graffiti, and more.
Additionally, this remover is completely harmless to any surfaces you use them on. Typical paint removers will contain rough chemicals, which strip away the color or finish from surface tops. But, this remover deals only with the mess and leaves the surface smooth and unharmed. Looking for the best spray paint for cars? This review will help you to choose the best one.
Pros
Multifunctional
It gets rid of a lot of messes
Works on almost any surface type
No harsh chemicals
Cons
Requires some rubbing to get rid of adhesives fully
May leave a residue if not properly wiped clean
2. Motsenbocker's Lift Off Spray Paint & Graffiti Remover
For clean slates and fresh new surfaces, this remover does all the heavy-duty work, so you don't have to. Most spray paint and graffiti removers leave a harsh chemical residue. Keeping the environmental factors in mind, Motsenbocker has come out with this revolutionary eco-friendly remover.
What makes this remover environmentally friendly? It is water-based, which means this product is completely soluble in water and cannot pollute any water bodies. It is also low in VOCs, or volatile organic compounds, which are substances that contain a high amount of carbon and contribute to air pollution.
Even though it seems like it's too naturally manufactured to get rid of gunk and goo, it's actually very effective in removing spray paint and graffiti. Not only those, but this remover can effectively clean up enamels, sealers, most stickers, primers, and even old paint streaks or oil-based paints.
If the mess is too big and too scattered to clean up, do not fret. This remover can work exceptionally well on more than 12 different surface types, including plastic, wood, metals, concrete, stucco, and even Plexiglas.
Pros
Eco-friendly
Zero waste
Effective on multiple types of mess
Works with various surface types
Cons
Requires scrubbing and double layering on brick surfaces
It may have a pungent smell with prolonged use
3. World's Best Safewipes Graffiti Remover
The name is no joke when it comes to this remover. Its quick and easy mechanism puts almost every spray paint and graffiti remover out there in serious competition.
Almost every remover you will find in the market is in the same, overtly familiar spray bottle. These spray bottles may seem like the traditional, safe way to go, but they actually can cause finger fatigue, leave plastic waste, and can be a hassle to store without clogging the nozzle.
That is why the World's Best Safewipes are the easiest and effective way of dodging all these issues and successfully removing clutter.
This remover comes in a box of 20 easy-to-use wipes. As soon as you pull one out of the box, the chemicals get activated and ready to go, which makes it act fast on the mess. Plus, these remover wipes do an excellent job of getting rid of the filth without smearing and smudging anything during the process.
Moreover, these remover wipes will just about clean any kind of clutter you can think of. Spray paint and graffiti are just the beginning; this product expertly gets rid of the mess caused by markers, pens, crayons, grease/oil, and more—all with just one swipe.
Not yet convinced? These wipes are entirely safe for any surface, including walls, tabletops, plastics, metals, wood, and even acrylics. So no matter where your mess takes you, the wipes will accompany you to get rid of it.
Pros
Easy to use
Effective on almost all surface types
It gets rid of a huge range of different marks
Shelf life is unlimited
Cons
Requires gloves if the user has sensitive skin
Can make hands feel dry
4. Sunnyside Ready-Strip Citrus Paint and Varnish Remover
This versatile remover does heavy-duty work on big messes and will leave surfaces sparkling clean, radiant, and brand new. If you are looking for a spray paint remover for cars for commercial purposes, this ½ gallon pack will get you the value for the price. For all heavy-duty cleaning purposes, you will find it is more than enough.
After using this remover, you will find that it sticks onto vertical surfaces, and does not drip as most removers do, which makes it completely mess-free. Moreover, if there are accidental slips or spills, you can easily clean with water without leaving any abrasion stains.
This remover is another eco-friendly selection on this list. It does not contain any harmful chemicals and is 100% biodegradable. So if you're in the search for a product that leaves zero waste and will positively affect the environment, this remover is the best way to go.
Just in case you are in doubt of its heavy-duty activity, this remover can penetrate and completely eliminate three layers of grease/oil. It contains soy, which is an ingredient proven to quicken removal time and leave surfaces immaculate. Plus, it's non-toxic, so you won't have a hard time breathing while using it.
Pros
Does not drip
Eco-friendly, zero waste
Non-toxic
Penetrates multiple layers
Cons
It takes 30 minutes to take effect
To work on more than three layers of grime takes around 4 hours
5. Dumond Confined Space Paint Strip Gel
Everything you want in a remover: long lasting, gets the hard-to-reach spots, safe to use, no fumes, and easy to use.
Last but definitely not least, this remover does wonders when it comes to removing spray paint and graffiti stains from areas that are beyond reach.
Most spray bottle-enclosed removers don't allow full control of the product and can be tricky to use in confined spaces. This product eliminates this problem and makes sure you have complete access to how it operates.
No matter how big or small of a mess there is, this remover will have it completely cleaned up without a trace of filth. This remover's surface types are compatible with concrete, wood, metals, tiles, plastics, fiberglass, porcelain, brick, and many more, making it the best graffiti remover on the list.
There are some places in and around the house that are too much pain to clean. Whether it be closets, basements, attics, showers, bathtubs, or storage rooms, this remover will go through every nook and cranny to expertly remove any grease, grime, paint, graffiti, marker stains, etc., and leave a spotless finish.
Unlike most spray paint/graffiti removers, this remover has a freshly new feature –adding aroma to rooms. Its non-toxic formula causes no breathing issues during use and provides a safe environment for children and pets. Plus, its citrus scent doubles as an air freshener.
Pros
Reaches hard to clean areas
Cleans multiple types of stains/marks from various surfaces
Non-toxic, citrus-scented
No harsh chemicals
Cons
May release an unpleasant smell while reacting with some plastics
It can require 2 or 3 repeated doses to get rid of old, hardened, and thick paint
What to Look for Before Buying
When it comes to deciding on the best spray paint remover for metal, plastic, or graffiti, the options can get overwhelming. However, this curated list we've walked you through is completely foolproof for every situation.
It's best if you know what exactly you are getting before you make the purchase. Here are three things you need to look out for a while to make your final decision.
Type of Mess
First, take a good look at what you're dealing with. Is it just spray paint stains? Is there any graffiti on the walls? Are there gooey sticker residues left on your car or plastic appliances?
These are just a few of the questions you should be asking yourself to analyze the mess as a whole. After you've done this, you'll find it much easier to target which type of remover you want.
Some all-purpose removers do an excellent job combatting different types of mess. We have included quite a few of them in the review section.
Time Consumption
If you're in a time crunch and need a quick solution for a not-so-quick mess, you will need to look for a remover that penetrates multiple layers of muck in minutes. So, keep an eye out for removers with soy, heavy-duty mechanisms, and fast-acting formulas that will help you in times of emergencies.
After-effect
If using the remover leaves slight stains, pales surface color, leaves bleach streaks, has a chemical-smelling solid scent, or takes too long to activate the cleaning process, then it is not for you.
In addition, you can check online for the product details of the remover you want and see if there are any harmful chemicals you do not want in your home.
Frequently Asked Questions

Does vinegar remove spray paint?
Vinegar is a good and less costly way to remove some spray paint. But, it's likely to strip away furniture finishing and leave swipe streaks. Also, the smell of vinegar is pungent and unpleasant. Spray paint/graffiti removers are better for a safer option since they're formulated to work effectively.
What removes spray paint from plastic?
Paint thinners, steel scrubbers, and soap and water are some old-fashioned examples of getting rid of spray paint from plastic. If you want to remove the spray paint successfully without damaging the plastic, opt for a spray paint remover for plastic, which will save time and the surface.
What removes spray paint from concrete?
The best way to remove spray paint from concrete is to use a good spray paint remover. Things like soap and water, hard bristles, steel scrubbers, wire brushes, hot water, and paint thinners will get most of the paint off but will most likely leave streaks and stains.
Does nail polish remover remove spray paint?
Nail polish remover is formulated with chemicals explicitly used for nails. These chemicals are not strong enough to penetrate thick layers of spray paint and graffiti. Moreover, most nail polish removers are sold in small volumes, which will most likely not be enough to clean the mess as spray paint removers can thoroughly.
Will paint thinner remove spray paint?
Paint thinners are used to liquefy hardened, or course, spray paint before taking it off. Wiping liquid paint will likely cause a bigger mess if not handled properly. That is why spray paint remover is used in this case. It's effective, foolproof, and gets the job done in minutes.
Conclusion
No matter how many layers you try to get rid of spray paint/graffiti, you will find that nothing works as a good remover. Its sole purpose is to fight course paint marks and hard-to-clean stains.
We hope that you have already found the best spray paint remover depending on the type of mess you will be dealing with.